Instagram is a photo and video based social networking platform owned by Meta. The focus on visuals, monthly user count of more than 2 billion has played a vital role in making Instagram one of the most important social media marketing channels.
The platform has recently expanded into the world of social media. The algorithms which are being used for this are serving video content to users, based on their interactions with past content. It was never this easy to discover content on Instagram, which in turn has great advantages for brands as it helps them in undertaking the Instagram Analytics performance analysis of their content and optimising it also.
Three types of accounts can be created on Instagram:
Personal accounts
Creator accounts
Business accounts
All three accounts have access to post on Instagram, but only two of these can access the analytics. These are Creator and Business Accounts. Businesses rely on these types of accounts for their Instagram analytics measurement. Mostly, brands do not worry about Creator accounts. But as the world of creators is expanding exponentially, it becomes crucial to choose content creators as partners.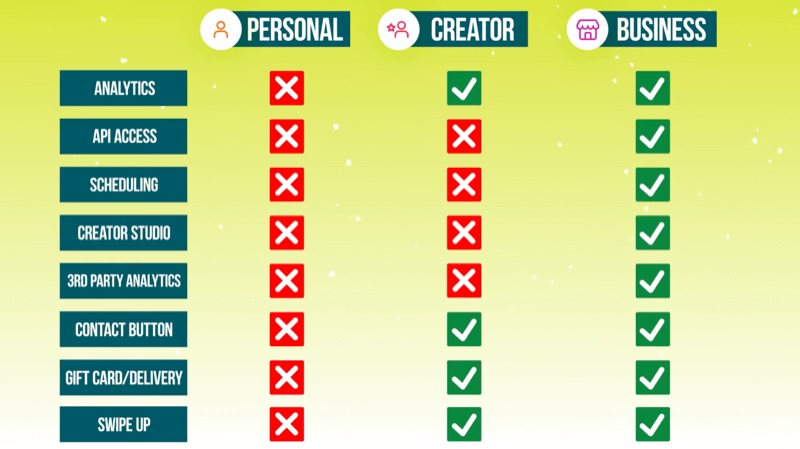 When implementing any marketing initiative for your brand, it is crucial to measure performance using Instagram analytics and insights to gauge audience engagement. By setting clear goals, KPIs, and objectives for specific channels, marketing teams can create and publish content strategically, allowing for effective evaluation and potential strategy adjustments.
After the content is published, the Instagram analytics data is analysed to understand the types of content which was successful in capturing the consumer's attention. The data serves a dual purpose as it can also help in understanding what type of content did not work at all. Another important part that Instagram analytics platform plays is helping to understand the effectiveness of the social media marketing channel as an e-commerce driver, and its impact on the performance of the campaigns.
Pasting a website link in the Instagram bio, it can also be used as a medium which brings new visitors to the website. Those companies which consider the website traffic for success, can benefit from this trick. They can also consider using this feature along with their reels and posts, as this is intended to increase their website traffic.
Providing unique , shoppable links in the bio can help customers get a seamless experience of discovering the products and buying them. Tags can be added to individual links which help in tracking each action. Using tags and Instagram analytics tracking codes can prove to be an advantage to help brands in maintaining consistent Instagram analytics metrics for multi-channel marketing.
Recommended Reading: The unseen ROI of branding
Importance of Instagram Competitor analysis
1. Check your performance and Instagram presence against the competition.
It provides the most important data to compare your performance against your competitors.
Are your competitors performing better than you? Which type of content is working in their favour? Do they post about holidays and big events and how well do these posts do? Competitor analysis helps you get an insight of all this data and plan your next social media posts accordingly.
2. Follow Industry Trends and Platform Updates
As the saying goes 'Keep your friends close and your enemies closer'. Well in this case they are not your enemies but are your competitors. Nonetheless, keeping a keen eye on the  competitors helps brands stay on top of the platform and industry trends. By conducting Instagram analytics competitor benchmarking, you can uncover valuable insights into Instagram analytics trends, themes, topics, and even memes that your competitors are leveraging. 
Tracking the competitors will have  double benefits. Firstly, the knowledge of industry trends and themes is gained. Secondly, brands can see how well their competitors are performing with specific themes and trends and can plan their Instagram analytics content and campaigns optimisation accordingly.
3. Understand Brand Presence
If the brand wants to be distinguished from the competitors, it needs to understand where it stands against them. This is what brand presence is all about. Competitor analysis provides the brand with insights which helps in measuring the brand presence. Comparing brand presence with competitors, especially with the aid of an Instagram analytics dashboard, proves invaluable for companies seeking a competitive edge.
4. Design a Well-rounded Content Strategy
Brands need to put a lot of thinking into deciding Instagram content strategy. Utilizing Instagram analytics reporting tools can simplify the task of understanding what works and what doesn't. But the presence of other brands is another bump in the road, and that too a big one. Other brands on the platform will also target major trends for their content.
Instagram Competitor Analysis makes the hard task of finding out what's working and what's not, really easy. What type of content is working well for the competitors? Are there specific themes which are not working well with the audience? Using Instagram competitor analysis, brands will get the answer to these questions and they can build a new strategy for Instagram content.
5. Find Business Opportunities
Analysing the competitor's data helps the brands see the gaps in their strategy. The audience is common to brands and its competitors. Using competitor analysis to find out what the audience says about your competitors. This gives the brand a window of opportunity to spot potential business opportunities.
Only researching and reviewing your competitors will not have any benefits and in the long run prove to be a waste of time.
Chalk out a strategy for your business and keep an eye on the appropriate Instagram Analytics App, which will help you get an understanding of how well your reach & engagement is growing.
But you need not worry. We Think North has got your back. We will help you focus on the competitor analysis and give you insights regarding the trends and themes on Instagram, so that you can be on top of the game.